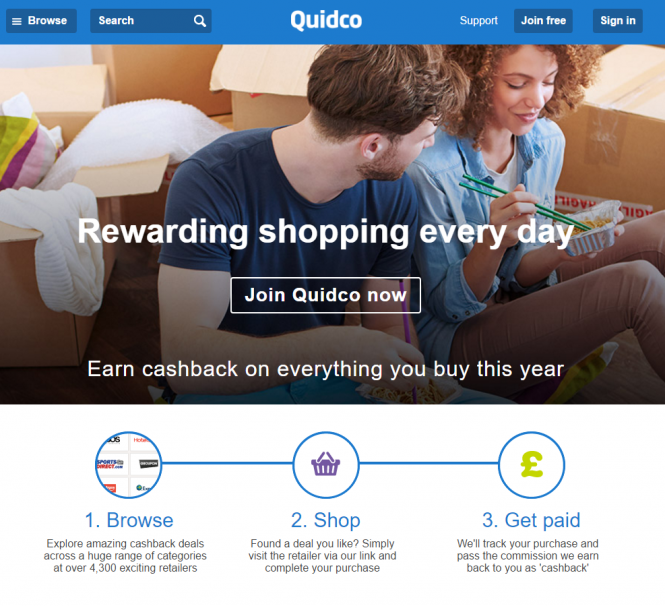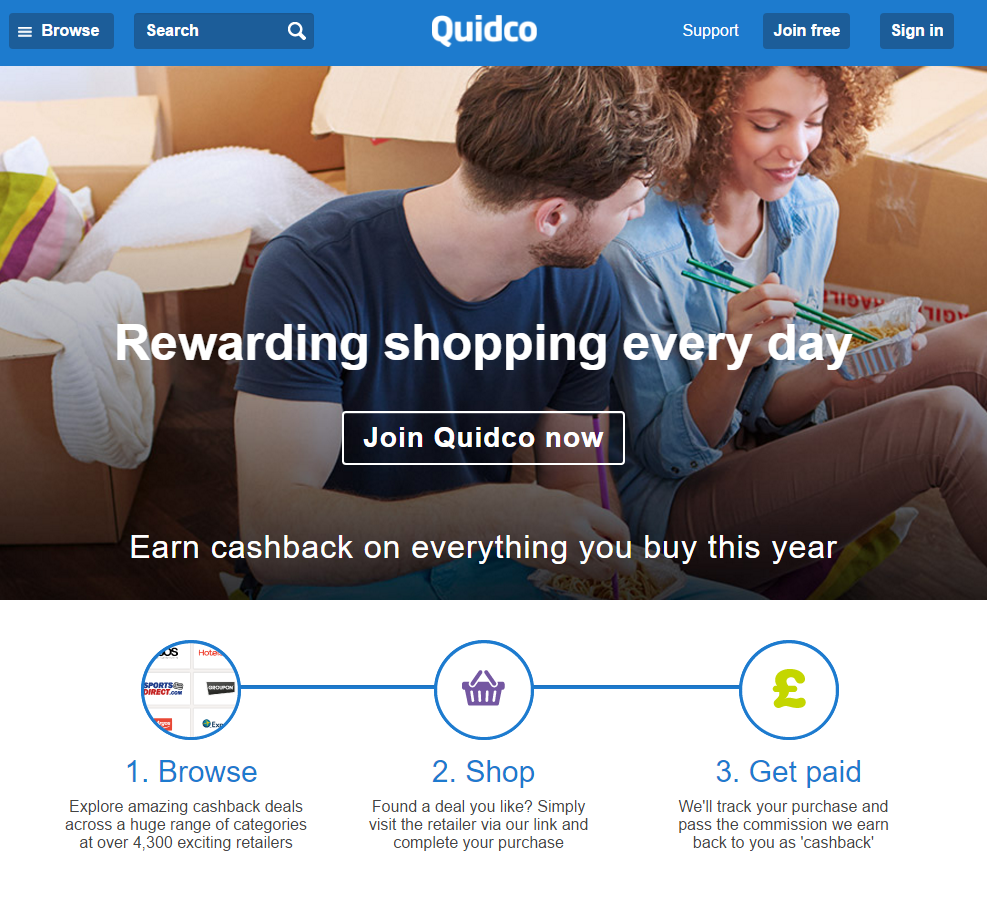 Quidco Review 
A Ranking Of : 4.8 out of 5

Owners: Paul Nikkel & Jen Nikkel
Website: www.Quidco.co.uk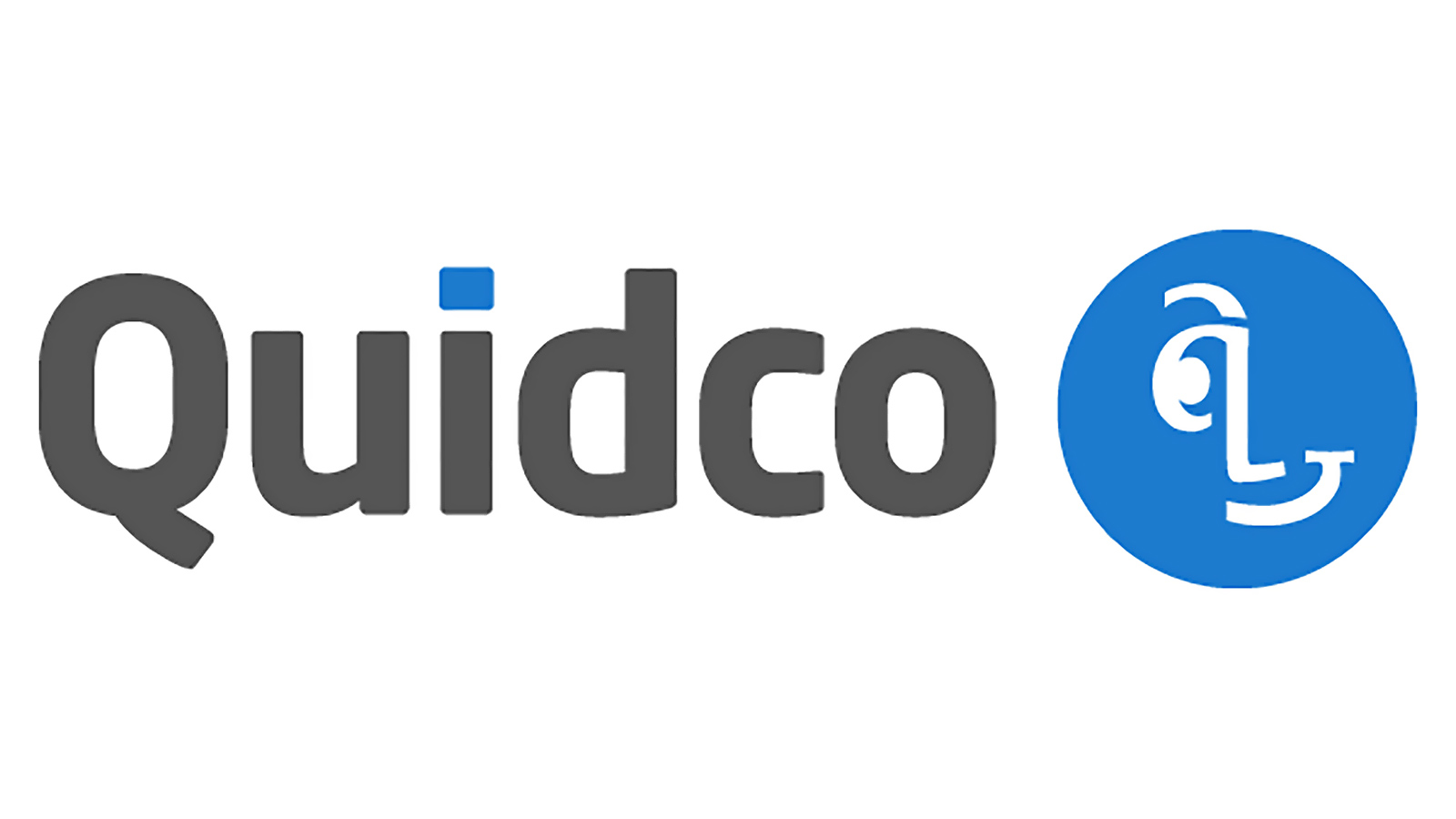 Ready to enjoy a more rewarding shopping experience
Quidco Review
---
Quidco launched in 2005 by Paul & Jen Nikkel. Founded at Sheffield university whilst they were studying together. The Idea based on creating an innovative way to save money whilst shopping on the internet. Quidco is today known as the number #1 rated Cashback and voucher code website in the UK. 
What Is Cashback? 
---
It's an incentive that retailers give you. For buying certain products! where the customer will receive a cash refund after they have made their buy.
How Does Quidco Work? 
---
It's quite simple to get cashback at Quidco and easy to use. Depending on what you are looking for you. let's say for example you are looking to buy something on Amazon. You can type in the retailer's name and Quidco will display how much cashback they are offering. If you buy from amazon or certain products you can buy to get Quidco cashback.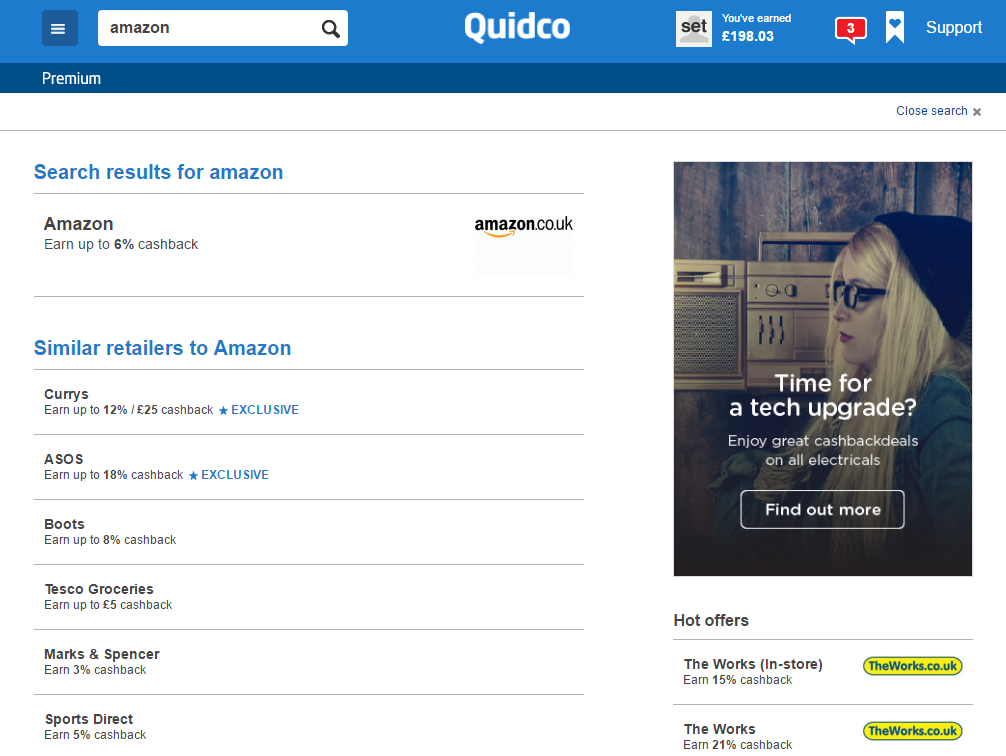 All you then have to do is click through the Quidco link. Which will take you through to the retailer's website so, in this case, it would be Amazon. Then a new window will open and your click will and tracked by Quidco going through to Amazon.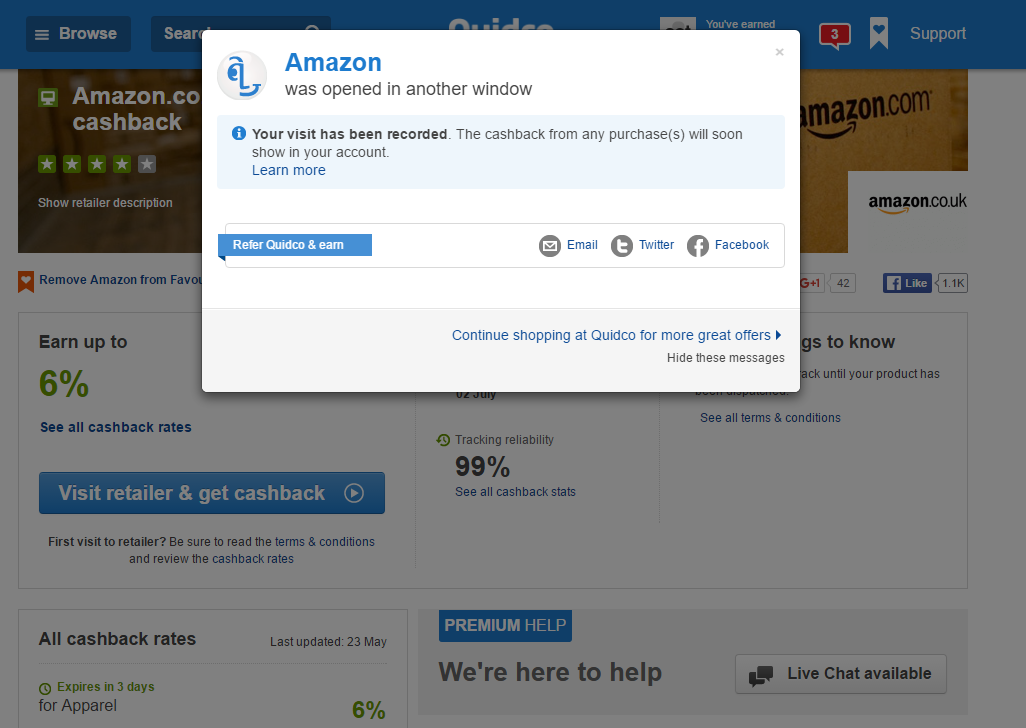 Sounds easy, doesn't it? it is I have been using Quidco for the past 3 Years and not once have I had a problem. With There website and receiving my Cashback. Over the last 2 years, I have earned a total of £198.03 .  Which is not bad considering these were items I was going to buy anyway, the extra discount was just the cherry on top. My largest transaction to date was when I was buying my wife's engagement ring. I redeemed a total of £107.25 cashback, I have highlighted this on my transaction list below. The second largest cashback transaction was when I purchased my car insurance. I managed to redeem £45.00 just for going through Quidco. When purchasing my insurance from Direct Line.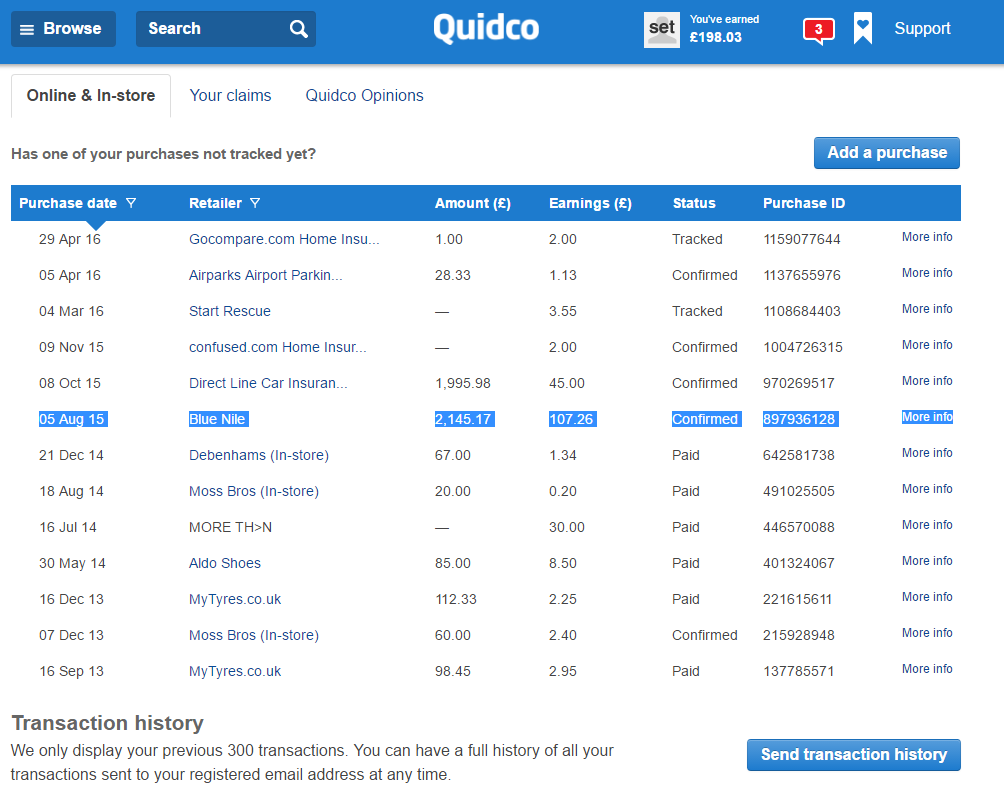 I get paid to buy Insurance?
---
Yes! The most popular retailers used for Quidco are insurance products. Quidco car insurance, Quidco travel insurance and Quidco home insurance. Not only do you get paid for just carrying out a search on a comparison websites. Such as Confused.com you also get paid Cashback for when you buy the insurance product itself. So Its a win, win situation, also you know what they say you can't buy insurance when you need it! Whilst you're buying it, take advantage and get cashback on it to save yourself some money. Which over time will end up being a significant amount. 
How To Create A Quidco Account 
---
How to create a Quidco account it's easy, Click here! 
What Are The Benefits Of Signing Up To Quidco? 
---
They have over 4200 Retailers you can get cashback from. 

Get money back for when you shop online 

It's FREE to Join Up 

You can get cashback in store when you have registered your credit or debit card online at Quidco. 

On average you can save an extra £280 a year. 

What Are The Drawbacks
---
Some retailers take ages to pay you your cash back

You have to upgrade to premium for a one-off fee of £5 if you want faster Cashback. For extra customer support, it is well worth it in my opinion.
Quidco Review Conclusion
---
I saved £198.03 in total over the past couple of years and there is no reason why you can't do the same. By clicking through Quidco before you make that big buy. The reason I created this website was to help people make money online, but also to help people save money. This is by far one the easiest ways to save money. So what are you waiting for, sign up and start claiming your cashback.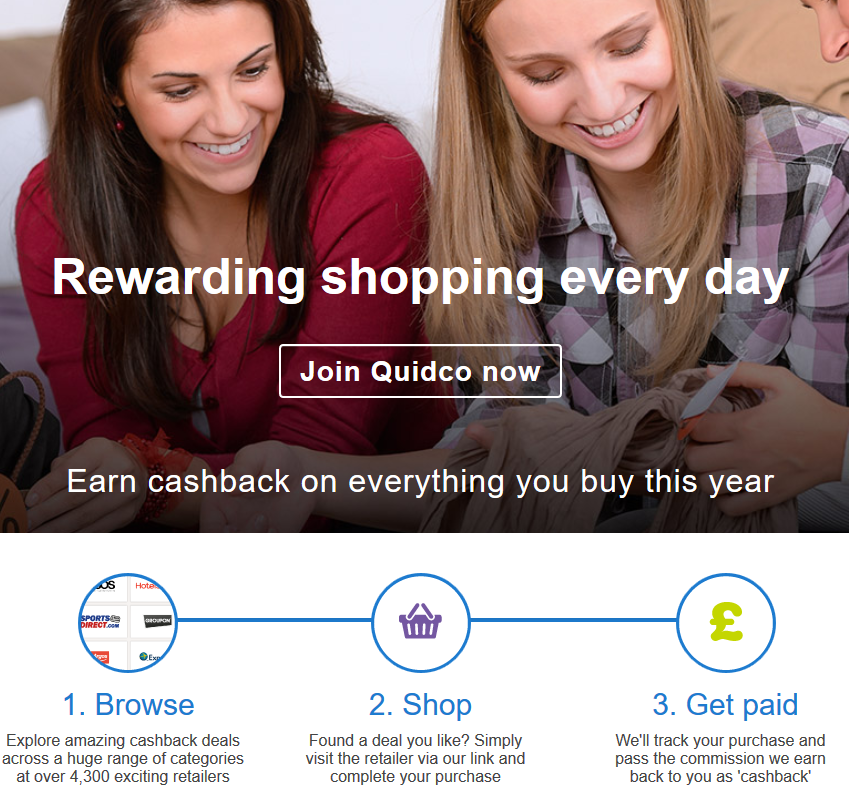 Ready to enjoy a more rewarding shopping experience
Quidco Review 
An Overall Ranking Of : 4.8 out of 5

Owners:  Paul Nikkel & Jen Nikkel

Verdict: Legitimate
If you're looking for a way to earn extra money at home, please take a look at my number #1 recommendation.
---
Reviewer:
Review Date:
Item Name:
Item Rating: