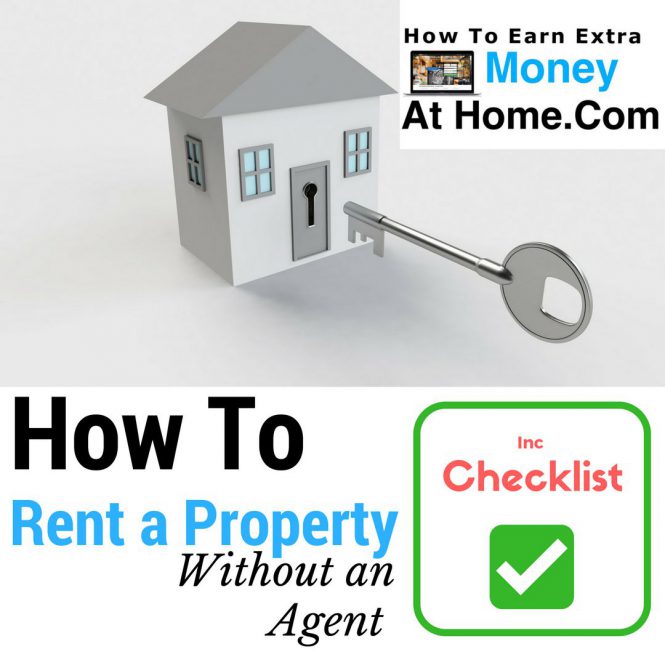 How To Rent Your Property Without An Agent, Including A Checklist.
If you're looking to rent your property by yourself, then look no further then this article on how to rent your property without an agent. I am writing this article as I have just been through the whole process and there were so many things which I needed to do, in order to get my property ready to rent.  So first things first.
Download TRELLO
Trello is a great tool to help you organise and manage all of your documents and things you need to do. You can create a board with a list of things you need to do. This helped me prioritise everything which needed to be done to get my property fully let and compliant will all laws. Please see a snapshot of my Trello board below, you can also use the mobile phone app which is very helpful as well as using your desktop. You can even attach documents. You can sign up to Trello here.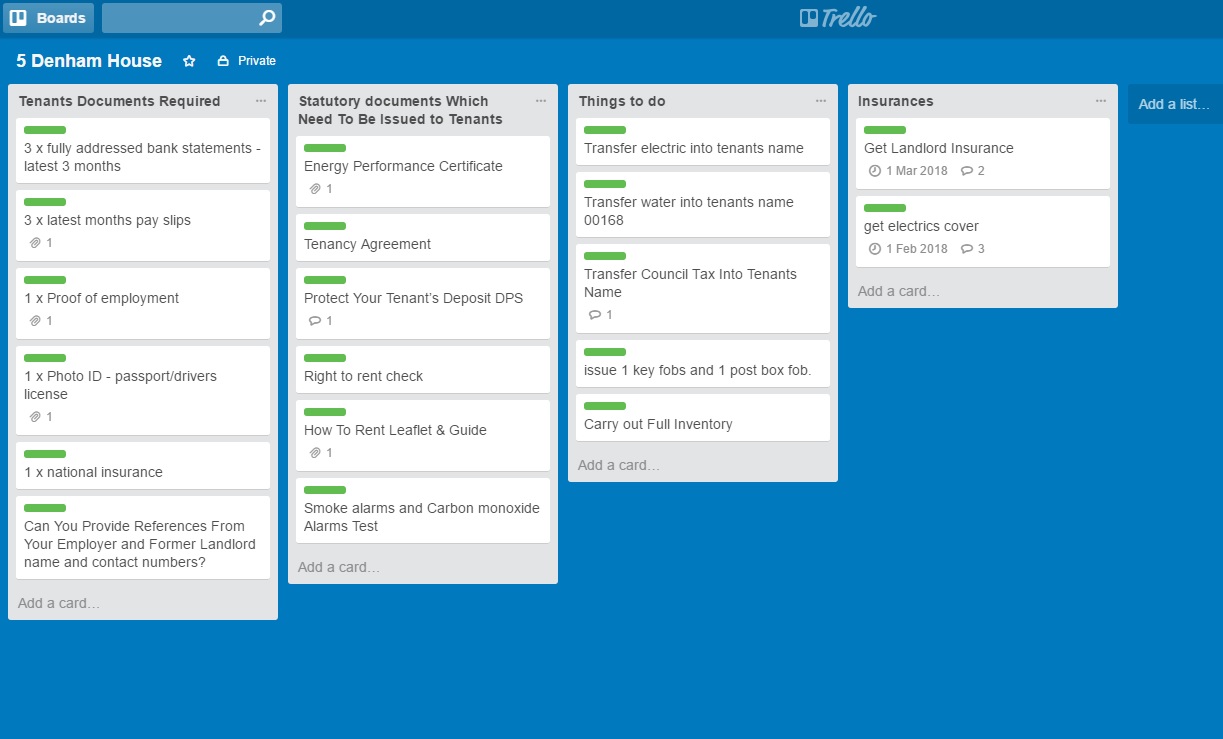 How To Rent Your Property Without An Agent Including A Checklist
Get Your Property Ready To Rent
What I mean by this is get your property to a presentable standard, make sure it's clean. Any defects like leaks or damp are resolved before you think of even advertising it. I'm lucky because the first property I was renting out without using an agent was a new build. therefore did not require much work being carried out. However, if you are serious about renting out your property and getting the top market rent for it. Make sure it's in a presentable condition. By making sure your property is fully ready, this may save you having to do extra viewings for two weeks and potentially save you 2 weeks worth of rent. Therefore make sure you put the effort in on making the property presentable and ready to rent, it will pay its dividends. 
Checking For Any Post-Refurb Minor Maintenance Issues
Make sure any squeaky doors, dripping taps are addressed before renting your property, maybe stay in the property for a day to see if there is anything which needs doing after the refurbishment has been completed. This way you are covering yourself from the front end and when the tenants move in, you will not be receiving any call outs. This will save you a lot of time and hassle in the long run.
Deciding Whether To Self-Manage Or Use An Agent
So you're most likely reading this post as your trying to weigh up whether to self-manage your property or rent it through an agent. On average agents will charge you around 10% of the rental income, they will also charge you additional fees for inventories check in and check out. Also not to mention charges to draft up a tenancy agreement and general administration for any call outs or any work they have to do.
What you need to ask yourself is who's going to do most of the work, you or the agent? You can manage the property yourself and just pay the agent a finders fee and manage it yourself which I am going to explain how to do. But to be honest I believe anyone is capable of renting without the need of an estate agent if you have the spare time do so that is.
10% of your rental income is a lot of money if you were renting your property for £1000 a month. It would cost you £1200 a year plus fees just to rent it. So you really do need to ask yourself is 10% really worth paying? (Plus Fees)
How To Rent Your Property Without An Agent Including A Checklist
Check Out Your Competition 
Take a look on right move or Zoopla and look at what else is currently being advertised on the market. If you have a 1 bed flat to rent, take a look at other 1 bed flats which are available to rent in the area. See what price they are, what condition they are in and what's included E.g. Parking space etc. If this is your first time and you are about to carry out a refurbishment, take a look at how good your competitor's properties are. Also check whether they are offering their properties, furnished or unfurnished.
IMPORTANT NOTE: Whatever you provide in terms of furnishing to your tenants, you will have to repair or replace in the event of there being a fault. This includes dishwashers, washing machines, microwaves etc. Therefore if you are advertising your property as fully furnished, make sure you supply a minimal amount of furnishings to save you the headache of having to repair or replace them later on.
Who Is Going To Be Renting Your Property?
The answer should be lots of people, your property should reach a wide audience dependent on your criteria of course. When advertising your property you really need to sell the fundamentals, the area, transport links, locality of schools and town centre, this way your advert is appealing to a wider audience.
How Much Do I Rent It For?
Like I mentioned earlier you need to do a comparable on Rightmove and Zoopla, this way you have a good idea of what a property in a similar postcode and finish like yours is renting for. Also, remember don't be greedy, for the sake of £50 more, it could take you a few weeks longer to rent, which actually ends up costing you two weeks worth of rent.
What, Where and How Should I Advertise My Property For Rent
First and foremost, you will need the correct platform to advertise on, I would recommend Rightmove, Zoopla and Gumtree. Normally you can only rent through Right Move and Zoopla via an estate agent. Therefore my number one recommendation would be OpenRent, they offer the most competitive advertising for Right Move Zoopla and Gumtree for as little as £29.00, plus the first listing is absolutely FREE.
In order to make your listing stand out, it is absolutely essential you have all of the following.
Professional photos staging your property in its best light,

OpenRent offer this service from a professional photographer including floorplans for £79.00.

You must have a good copy (description), take a look at a few estate agents adverts for similar properties in your area. Don't forget to include all of the fundamentals of your property, such as the location and how its less than a minutes walk to the station or includes a parking space. Etc.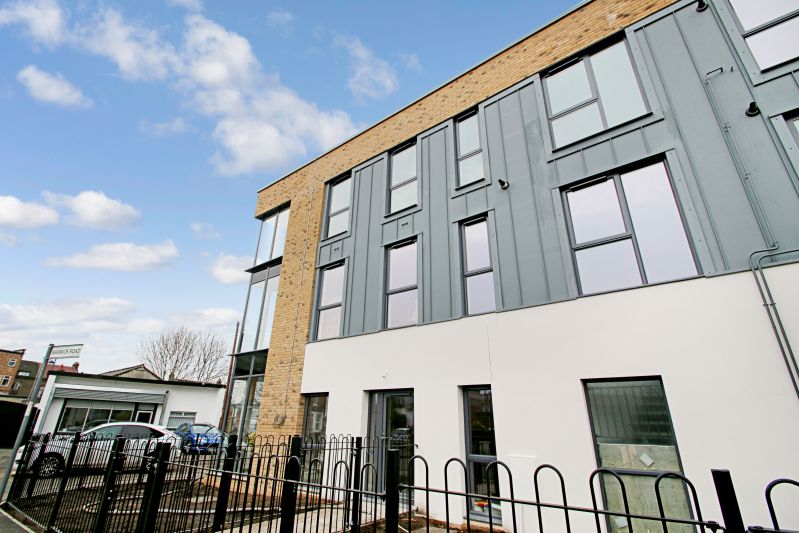 Do Your Market Research
Make sure you do your research before advertising your property, does your property have a USP (Uniques Selling Point). You need to advertise everything which makes your property stand out. E.g. Parking space, Garden, 2 minutes to local School or Train Station.
Price Competitively
Price your property competitively, do your research and do a comparable for similar properties in the area which are advertised for rent. Remember for the sake of £50 extra, this may delay your property from being rented, which in the long run actually ends up costing you more due to taking an extra month to rent it.
Use Brilliant Photos
Make sure your photos are exceptionally beautiful, make the photos stand out and stage your property in its best light. You can get these done professionally from OpenRent for £79.00 and then reuse them once your property is available to rent again.
Reply Quickly
You need to respond to all enquiries as quickly as possible, one mistake I made was delaying a viewing by only a couple of hours, so I could show two potential tenants back to back. The tenant then went to view another property an hour before and ended up signing a tenancy. Therefore, by delaying to respond or show the tenant the property I ended up losing a potentially really good tenant who matched all of my criteria as a landlord. If you are doing the viewing yourself, present it in the best light and really show it off to its full potential.
How To Rent Your Property Without An Agent Including A Checklist
Review Progress And Take Action Every Week
Once the property has been advertised, you want to review the amount enquiries you are receiving. You may need to review the monthly rental costs if your not getting any response, make sure your on the ball and constantly monitoring your advert and the responses you are receiving. The last thing you want is your advert to go to the bottom of the list and become stale. Make sure you are getting constructive feedback from your potential tenants, so you can address anything that may be preventing people from renting your property. 
Negotiate The Deal And Structure A Win-Win
Once you have potential tenants viewing your property, they may want the property to be furnished or have some other requirements, try to negotiate a deal with them. They may then be able to move in quicker saving you a few weeks rent from the property being empty. Most tenants will not ask you to negotiate on the price, this is actually quite rare. However if you have the perfect set of tenants and they ask you to lower the rent by £50 a month, be reasonable and compromise with them. Remember they are your customer and you are offering them a service, treat them as you would want to be treated. 
Always Reference Check!
IMPORTANT NOTE: Always reference your tenants and also mention this in your advert description, this will deter anybody who knows they are not going to pass the reference checks. This will cost you approximately £20 through OpenRent and they will carry out a comprehensive referencing check. this will include all of the following.
Comprehensive Reference Takes 3-5 Working Days (On Average)
Credit Check

Linked Address, Identity & Fraud Information

CCJs, Decrees, and other court information

Right to Rent Check and Advice

Affordability Rating

Previous Landlord Reference

Employers Reference

Rent Guarantee Insurance Eligible Check
Also to speed up the process I would take all the tenants information yourself and pass this on to the referencing company as it seems to speed things up a bit, plus you receive a copy of everything yourself. You should be asking for the following documents from your tenants as standard. 
3 x Fully Addressed Bank Statements – Latest 3 Months

3 x Latest Months Pay Slips

Proof Of Employment

1 x Photo ID – Passport/Drivers License

National Insurance Number 

References From Employer and Former Landlord name and contact number
IMPORTANT NOTE: If you are not referencing your tenants, you are asking for trouble. If there is one thing you should be doing as a Landlord its this.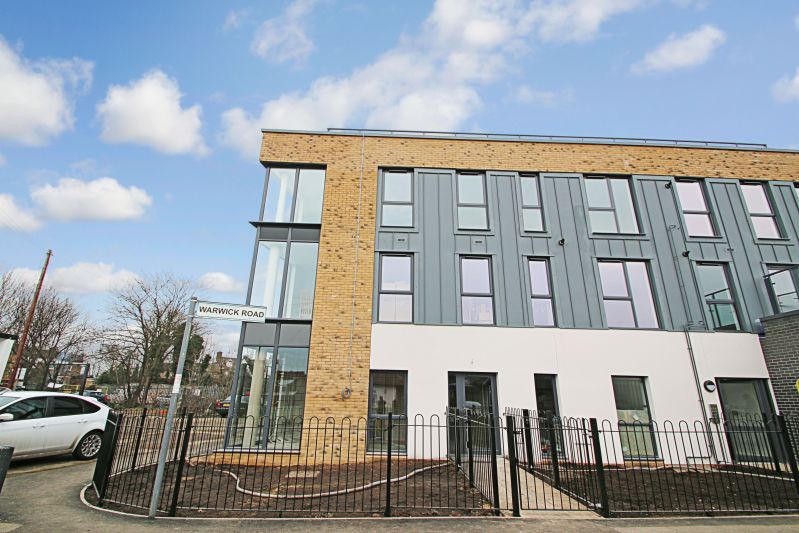 The Legal Stuff As Of March 2017
Informing the authorities and utilities about your ownership
You need to inform the council about who is living in your property and who will be responsible for paying the council tax.  You will also need to inform the utility companies of the opening meter readings for when you tenants moved in and register the utilities in your tenant's name.
IMPORTANT NOTE: Register all bills in all of the tenant's names, so if you're renting to a couple. Make sure all the bills are registered in both of their names, they will then both be liable. The same goes for the tenancy agreement, everything should be in all of the tenant's names. This way each tenant is liable and not just one.
Obtaining Any Licenses That Are Needed
Check to see if any licenses may be required from your local council, If you are involved in renting your property per room, this may be classified as a HMO (House In Multiple Occupation).  Therefore the property will need to have a license and be fully compliant with HMO Building standards. Some councils do require you to have a license to rent your property, therefore it's your responsibility to check. 
Getting Safety Certificates In Place
By law, you need to have all of the followings in place.
Gas Safety Certificate (Annually)
This can be carried out by OpenRent at a cost of £45.00 
Electrical Safety Certificate (Every 5 Years )
It is the landlord's responsibility to ensure all electrical fittings, wiring and supplied appliances are in safe and working order. OpenRent can help certify appliances (PAT Testing) as well as the Fixed Wiring (EICR) at a cost of £49.00.
Smoke & Carbon Monoxide Alarms 
Provide a fully working Smoke Alarm on each story and a Carbon Monoxide Alarm in any room with a solid fuel Burning appliance (Boiler).
Energy Performance Certificate (EPC)
This is valid for 5 years and can be carried out from OpenRent at a cost of £49.00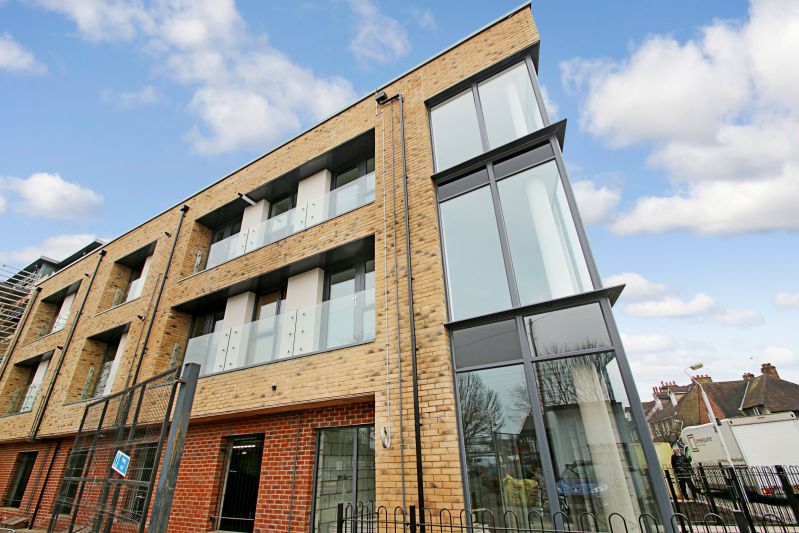 How To Rent Your Property Without An Agent Including A Checklist
By Law, You Will Also Need To Provide
Provide Tenant with How To Rent Leaflet. 
A Right to Rent Check- You must check that tenants or lodgers can legally rent your residential property in England. ( Use Inventory Hive App) more information on App below. 
Protect The Tenant's Deposit Using Government Approved Scheme. Any of the following, Deposit Protection Service, My Deposits and Tenancy Deposit Scheme. You also need to issue them with prescribed information given to you by the Deposit protection scheme.
Get A Professional Inventory & Check In Report Carried Out 
It is essential that you get a professional inventory carried out along with a check in report. This can be carried out by OpenRent for £85.00 alternatively you could do it yourself on an app called Inventory Hive which costs £12.50 for the year. This will include check in and check out reports as well as help you carry out a right to rent report. The App really is awesome to use and I would highly recommend it.
IMPORTANT NOTE: Get a professional inventory and check-in report ( Inventory Hive) there's no way you can prove handover without carrying this out. 
How To Manage A Property Yourself Once Rented
If you put in the right tenant and set it up correctly, everything that follows becomes dramatically easier.
Make sure you follow all the steps above on how to let a property with the right tenants it makes everything so much easier.
Provide a welcome pack that tells the tenant what they need to know (and saves you answering lots of questions!)
Provide a welcome pack, Where the stopcock is? What to do in the event of an electrical failure? What to do if you smell gas? Supply appliance manuals show the tenant where the electric and gas metres are located.  Educate the tenant the way you would like them to work with you, Also provide the tenant with a payment schedule, so they know exactly when their rent is due. More importantly the account details it needs to be paid into etc.
Diarise key dates like the expiry of the gas safety certificate, and the end of the fixed term
You need to keep a diary of all the key dates of your tenancy, these will be as follows. When the Gas safety certificate is due for Renewal, set a reminder 2 months before so you can arrange access with the tenants and engineer. 
Tenancy Renewal Date, you may want to put a reminder on your calendar 2 months before the end of the agreement date. Important Note: Once the fixed term is up you need to give a 2 months notice by serving a section 21 notice, if you want the tenant to leave the property. 
Make sure the rent is paid on time – follow up immediately if it's not, and report it to your Rent Guarantee Insurance provider in line with their T&Cs if appropriate
Make sure your rent gets paid every month- make sure you notify your rent guarantee insurance company if the tenant defaults. Important: This is not negotiable.
Set up a procedure for maintenance reporting
You need to get things fixed as soon as possible, give them a procedure to send you an email. Always leave a trail as proof and have a dedicated phone number for repairs. Important Note: Leave an email trail, you can refer to this if there is a problem later on. 
Respond appropriately to maintenance requests
Respond to everything with proportion, only in emergencies should you react ASAP! Always try to understand the cause of the problem and understand how it happened and get written confirmation to make sure it's all ok so you can mark the matter as closed and if the tenant tries to dispute you didn't carry out the repair you have an email trail.
How To Rent Your Property Without An Agent Including A Checklist
Find A Great Tradesperson (if you can!)
Get a good handyman, will make your life much easier, in the event of carrying out any repairs. 
Conduct Inspections on the first 6 weeks and then every 6 months. 
Check all the electrics, gas and any damp or any maintenance issues which may need to be carried out. Also if you notice the tenant has made any adjustments to the property. Make sure they are fully aware they will have to return the property in the same condition it was given to them. Otherwise, this may affect their deposit, always give the tenant a chance to put things right to prevent any disputes later on. 
Decide what to do at the end of the fixed term, and take appropriate action
You can let it just carry on as a rolling contract or let it out for another fixed term. You can review the rent and if the tenant is leaving give them a chance to make anything right and do another inventory at the end. A check in and out Inventory and documenting it is essential when moving them in and out. Important Note: Get a professional inventory and check-in report ( Inventory Hive) there's no way you can prove handover without carrying this out. 
Keep yourself up-to-date with ever-changing legal requirements – ignorance is no excuse!
All legislation, keep on top of everything also consider local landlord groups and national landlord groups.
Important Note: Remember to be professional and treat them how you would want to be treated, they are a customer for your business so be nice!
How To Handle A Nightmare Tenant
I am going to briefly run through how to deal with this unfortunate situation. However, this can be avoided by not renting to them in the first place. If you have done everything by the book as stated above, carried out your referencing properly and done your background checks. You would have seen all the warning signs before letting it get to this stage and renting to a disaster tenant in the first place. 
Important: Referencing make sure you reference every tenant, do not neglect this stage it's very important, remember prevention is better than cure.
Get Rent Guarantee Insurance
If you want to be extra precautious I would recommend Rent Guarantee Insurance. This will protect your income if your tenant defaults on the repayments. This will save you being out of pocket and you can't cut any corners in referencing. Make sure you read the policy in detail before buying this and make sure you comply with all terms and conditions. Check the whole small print. They will require all of the following criteria to be carried out before renting to the tenant. 
A Signed Tenancy Agreement

Vetted your tenant(s) including obtaining credit reference checks and a guarantor (if applicable)

Collected the first month's rent in advance and 

one month's rent as a deposit
How To Rent Your Property Without An Agent Including A Checklist
Set up processes that boost your chance of success
Processes are important, make sure you have a process for late rent. Make sure you have reminders in place to check the rent has been paid, email if it hasn't been paid within 24 hours. Then text and follow up with a phone call, don't leave anything to chance. The more relaxed you are with the rent being late, the more the tenant will delay. Also, remember to have a process for any maintenance requests and completion in writing. 
Keep It, Professional
Don't lose your temper, keep it professional and be diplomatic, keep it all factual and businesslike. Refer back to the tenancy agreement and just state what they have legally signed up to.
Know When To Say Enough Is Enough
Sometimes you can give tenants a chance, don't get mislead on. Sometimes enough is enough, don't try to fix something that cannot be fixed.
Understand Your Legal Options
Your legal options, you have 2 different options
Section 21 only be used at the end of a fixed term, you need to give 2 months notice. Therefore on a 12-month agreement notice at the end of the 10th month you give 2 months notice.
Section 8 can be used at any time you have to prove specific grounds for the end of the tenancy. It is up to the courts to make a decision whether to give possession or not. I try to issue 6 months tenancy as its easier if things go wrong, you can get them out earlier. Once they have been there for 6 months you can then renew for 12 months. 
Get professional help (NLA and RLA)
You can use the NLA or RLA who can help you if you need any advice.
Learn & Move On!
Learn from your mistakes and move on!
Thank you for reading my post on How To Rent Your Property Without An Agent Including A Checklist.
I hope you have enjoyed reading this article as much as I have enjoyed writing it. Leave a comment below if you have any further questions or need advice. I would be more than happy to help and point you in the right direction. 
Naeem. 
P.S Download your FREE checklist by clicking on the link below.