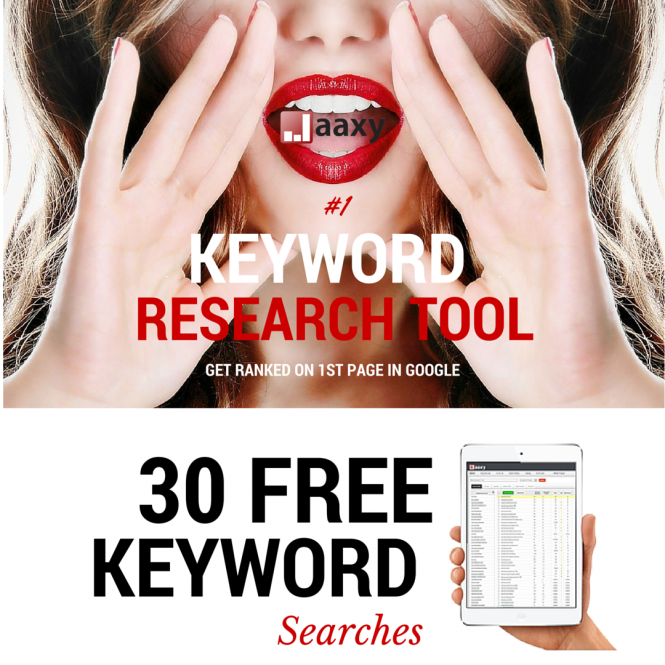 The Jaaxy Review A Ranking Of : 4.9 out of 5 





Price: $0 Membership (Free 30 Keyword Searches) Pro Account $19 A Month Or $199 A Year.
Enterprise Account $49 a month. 

Owners: Kyle and Carson

Website: www.Jaxxy.com

Free Trial Access
Get 30 free Jaaxy searches when you sign-up for Free Today!
---
The Jaaxy Review- What is Jaaxy? 
---
The Jaaxy review , Jaaxy is a keyword research tool created by the owners of Wealthy Affiliate, Kyle, and Carson.
This is by far the best tool ever created to get your page ranked to number one on Google.
The Jaaxy tool can be used for a number of different searches, in order to provide you with high ranking keywords.
I am currently a Pro member and I pay $19 a month, however, its worth every penny if you want your site to get ranked in Google.
How Does It Work?
---
Simple you type in the keyword you are looking for and it gives you a number of suggestions . It's also broken down the statistics for each keyword.
Jaaxy gives you the following information for each Keyword.
Average- The average number of searches the keyword receives every month.
Traffic- Visits your website if you achieve first page rankings in the search engine.
QSR- (Quoted Search Results)- The number of competing websites ranked in Google for this exact keyword.
KQI- (Keyword Quality Indicator) Green Good, Yellow is OK, Red is poor.
SEO- a score based on traffic and competition, the higher the score, the more likely you will rank for this keyword on the first page (Scale 1-100 Higher=Better)
Domains- Also if there are any domains available, that are related to the keyword.
Please see screenshot below.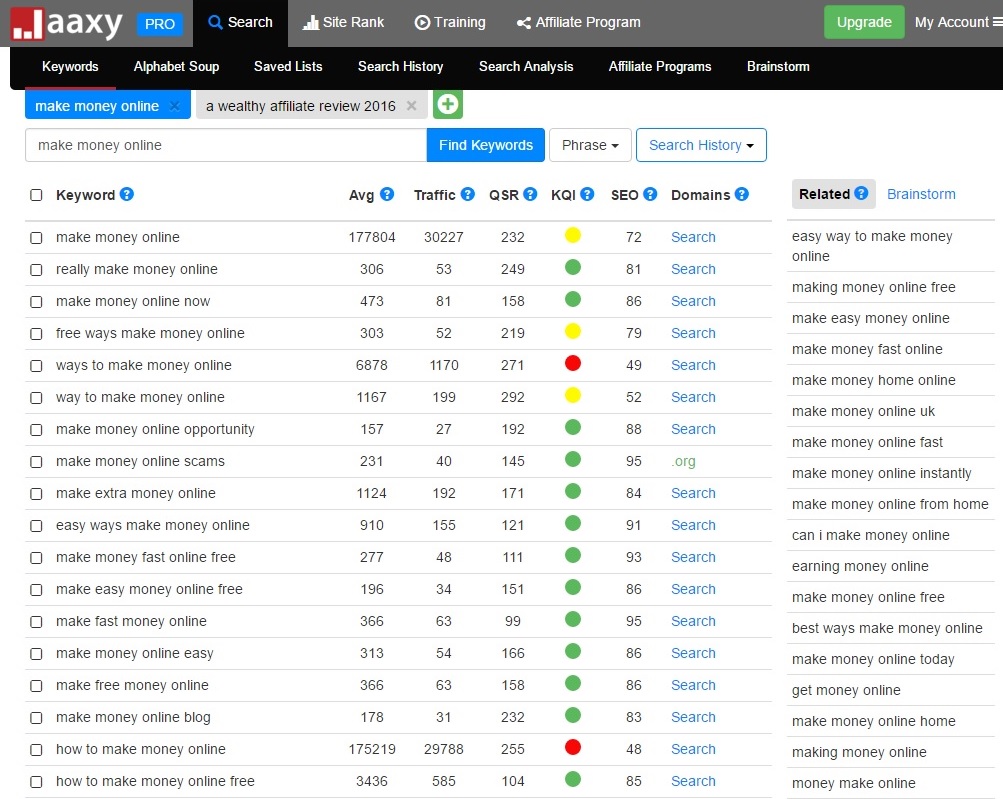 Therefore by combining all of the statistics for the above Keywords, you can select the most typed in keywords on Google per month, with the lowest competition on other sites which will give you, High ranking keywords. You have a massive advantage over every other website with this tool. This is essential when writing posts and creating new pages as you want your content to get ranked.
Free Trial Access
Get 30 free Jaaxy searches when you sign-up for Free Today!
What Else Can I Do?
---
A lot more , I will briefly go over all of the other features Jaaxy has.
Find a domain which is likely to get ranked due to the keywords being typed in Google a thousand times a month. How to earn extra money at home is typed in Google approximately 6000 times a month, therefore,I am most likely going to get ranked as soon as my content matures, along with all the posts and pages I have created which are Keyword rich. You can also find very catchy domains to buy and sell. 
Like mine Howtoearnextramoneyathome.com 
You can spy on your competition, you can have a look at their Meta Descriptions and keywords, also, you get to have a look at the amount of backlinks on their site and keyword density, very insightful stuff into your competitions page as well as looking at their word count.
The Affiliate Program 
---
Once you become a member you can also promote Jaaxy on your website, you can then earn money just from passing on recommendations. please see Affiliation Credits below.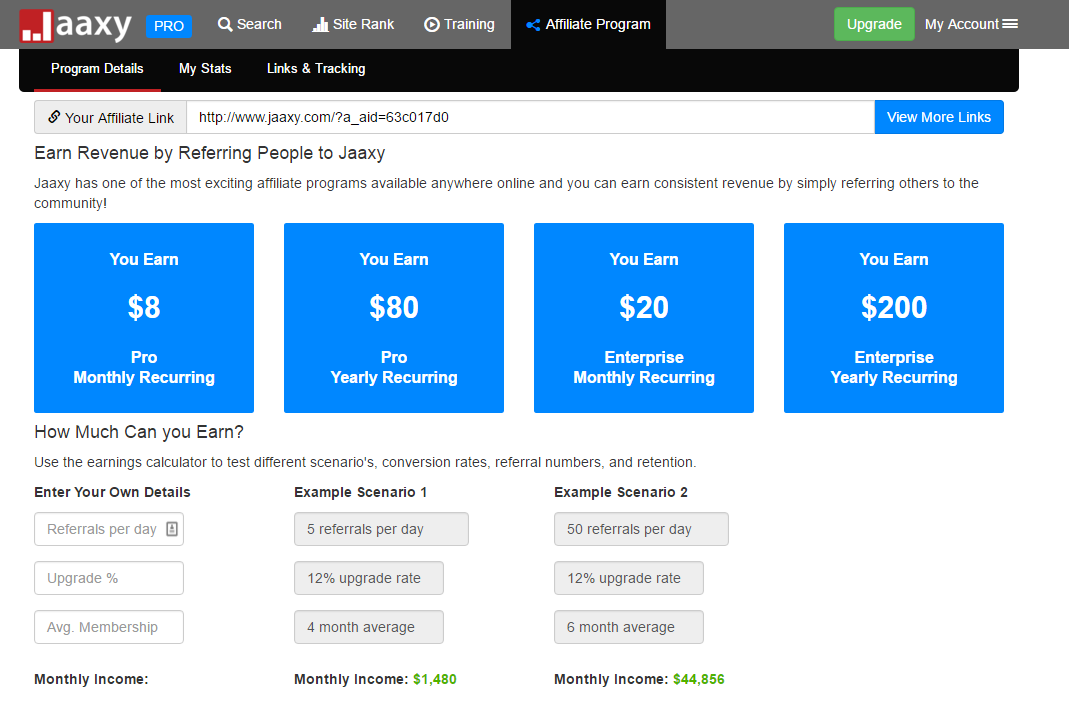 Free Trial Access
Get 30 free Jaaxy searches when you sign-up for Free Today!
 

Try It for Yourself…Type in a Keyword below
---
Summarized Overview
---
Name: The Jaaxy Review 
Sales Page URL: www.Jaxxy.com
Owners: Kyle & Carson
My Overall Ranking:  4.9 out of 5






Verdict: Legitimate 
Drop me a comment below or you can always get in touch with me via WealthyAffiliate.com (link to my profile).
Reviewer:
Review Date:
Item Name:
Item Rating: