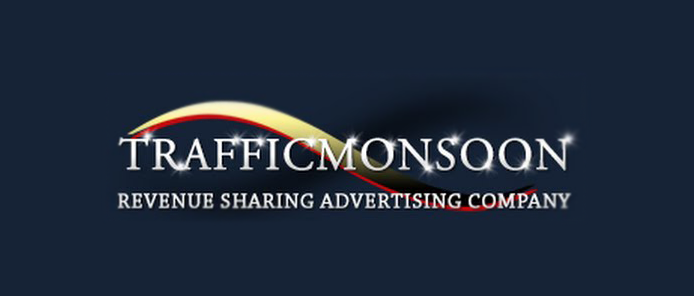 An Overall Ranking Of : 1 out of 5
Price: £0 Minimum Investment £35 ($50) for Adpack With Sharing Position
Owners: Charles Scoville (Founder & CEO)
Website: www.TrafficMonsoon.com
Traffic Monsoon a scam? This is actually the first website I came across where I started making money instantly. Traffic Monsoon is a Pay Per Click Website, where you have to click ten adverts a day. There are several ways you can make money from this website, however just like most other things on the internet which are too good to be true, this is too. 
I like to manage my own risk therefore even though originally I did intend to invest in this website, I then pulled out all my money within 55 days. There's a quote which I will never forget after reading the book "Rich Dad Poor Dad". "A risk is only a risk if you haven't done your research" That's why I'm here to help you make a decision and do your research on whether or not Traffic Monsoon is for you.
However If you want to make money Online, then there is only one certified programme I can recommend and that is the Wealthy Affiliate.
What Exactly Is Traffic Monsoon?
---
Traffic Monsoon was created by Charles Scoville on the 10th of October 2014 , Therefore, the website is approximately 18 months old.  He has created many PTC (Pay To Click) , Advertising and Revenue Sharing Companies previously which have all disappeared into thin air, leaving a lot of people out of pocket. They are listed as follows: Viptc.com, Infinitybux.com, eternallifebux.com, elaunchformaula.com, wealthenginex.com, trophybux.com, inboxbux.com, Adcashfast.com, Freehitxchange.com, Buxsecure.com, powerfulbux.com, foreverbux.com, buxunleashed.com, banrev.com, ultimatepowerboost.com.
Traffic Monsoon: is a specialised advertising and revenue sharing company, They offer four services, these are as follows. 
Traffic Exchange: you view other people's websites in return for them viewing yours. 
Revenue Sharing: You can buy and Adpack from Traffic Monsoon and earn a profit of 10% after 55 days of purchasing your ad pack.  
Cash Links: Earn revenue for each cash link you click on between 1 cent and 2 cents each.
Affiliate Program: For each person you refer, every purchase they make you will receive a 10% Commission. Also for each cash link they click on you will make the same amount in commission. 
How To Make Money With Traffic Monsoon 
---
There are 4 ways of making money with Traffic Monsoon, These are as follows: 
Cash Links: This is the only method I would recommend with Traffic Monsoon, it doesn't require any money and you can earn around 10 Cents a day. I know it's not brilliant but at least your money is not at risk. Cashlinks are basically PTC adverts (Paid To Click). Where people who purchase Ad packs from Traffic Monsoon, get their adverts displayed on the website and you get paid to click and view them. Depending on how long you view them for , will determine how much you get paid. The maximum you can get paid is for viewing an advert for 60 seconds and you will get paid 2 Cents. Please see table below.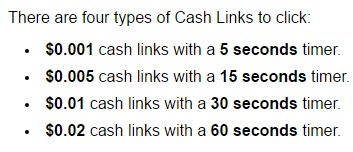 Advertising Services: You can make money on Traffic Monsoon by promoting your own website! Therefore, any traffic generated within Traffic Monsoon will result in more hits to your website and possibly more conversions. The cost to advertise your services on Traffic Monsoon is as follows. You can also generate free clicks for every advert that you view, therefore, if you were to view 10 adverts a day, then you will be entitled to 10 clicks for free. Therefore, you can use Traffic Monsoon, without using any money whatsoever. 
Banners: $0. 25 Per Click 
Text Ads:  $0.25 Per Click
Traffic Exchange: These will be available to purchase through the Traffic exchange. 
Massive Traffic: This service promotes your website to external websites and traffic monsoon members, which will show your website to a big audience. 
Login AD: Gives you the option of promoting your website to all users who log in over 1 day. 
Start Page: You can promote you page as the first one users will see when they log in. 
AdPacks and Sharing Positions: 
You can buy Adpacks with a sharing position and without one, What is a sharing position? A Sharing position is where you purchase an ad pack for $50 and you get a share of the profits on a daily basis for 55 days, this on average amounts to $1 return a day. Therefore, after 55 days you will have a return of $55 giving you a $5 profit (10% profit every 55 days)  If you purchase an ad pack without the sharing position you can just pay the minimal $5.95 for around approximately 1000 clicks.  ( Note: after 55 days the ad pack expires) 
So say you were to buy the ad pack with the sharing position, you would get the following.
Advertising Credits of 1000: Which equals 1000 visitors to your web page, coming from external and internal users of different advertisement websites.
Banner: you will receive a banner for your website which you will have to create and provide a link for, which includes 20 Clicks.
Sharing position: A sharing position for each ad pack you buy, therefore, a share of the daily profits. Approximately $1 a day.
Affiliate Program:Referral 
Lastly another way you can make money from Traffic Monsoon is by referring people, For each Ad pack you referral buys with a sharing position you will receive a 10% Commission. Therefore, if your referral buys one Ad pack you will receive a $5 commission.
Also, when your referral clicks on cash links you also get a 100% commission for each cash link they click on, these are a maximum of 2 cents each, as listed in the table above.
Is It Worth Investing In?
---
Even though I did invest in this programme previously, personally I would not recommend it. When I first invested in Traffic programme, I thought I would give it a try as I was recruited by a colleague of mine. But once I did my research and looked deeper into what I was actually investing in, I got paranoid and withdrew all the money in my account. I am glad that I did withdraw all the money in my account, all except a total of 6 cents was remaining in my account. .
I logged back in today to check if I had access to this money and I didn't, instead, I got this message.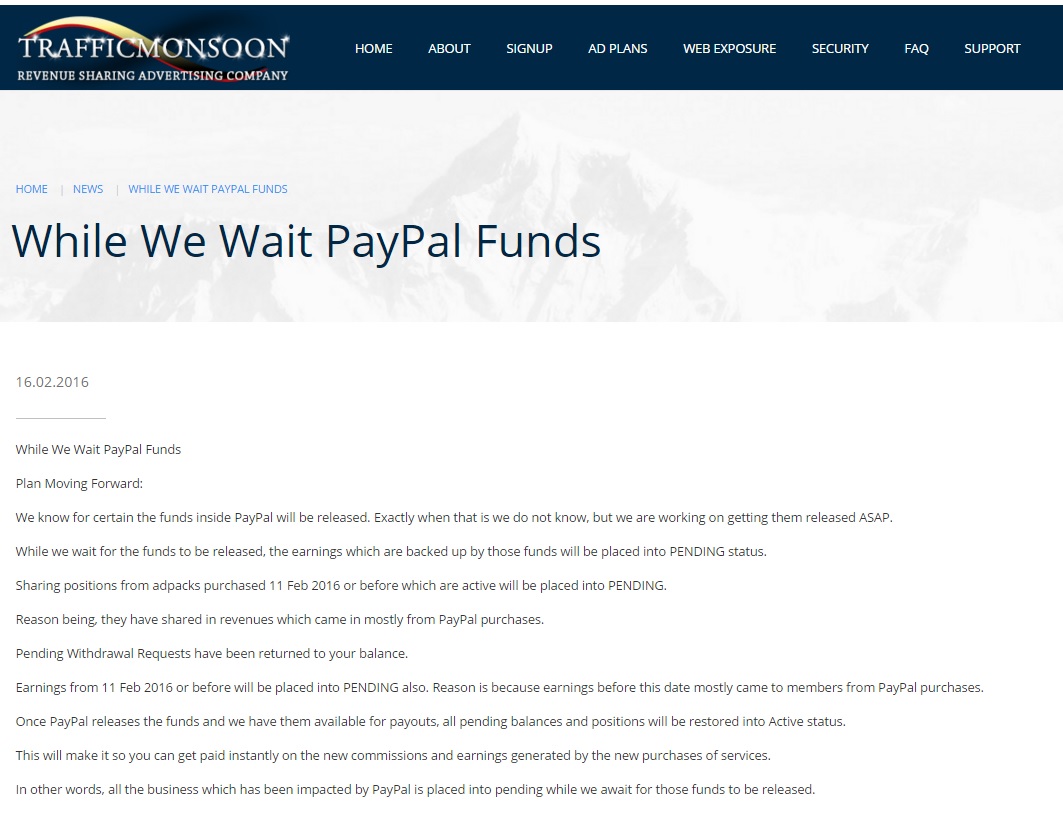 In Conclusion
---
If I would have kept investing my money into this programme I would have lost everything, Therefore, I am glad I got out when I did. Paypal has seized all the money in the Traffic Monsoon account, as I believe they have caught on to the fact, that this nothing more than a Glorified Ponzi Scheme. Now Traffic Monsoon are using Payza! They are trying to build the business back up again using Payza, but what about all the people's money that has been seized by PayPal?
In conclusion, there is only one way Traffic Monsoon is going to go and that is down, Once people stop putting money into the system the website will disappear, just like all the previous websites created by Charles Scoville. 
If you are reading this right now and your thinking of investing in Traffic Monsoon, do yourself a favour and save yourself from losing all your money in the near future. After Traffic Monsoon, I was looking for a certified programme, where I could make genuine Passive income which is where I came across the Wealthy Affiliate. If you're serious and looking to invest some time in creating a business online, start now by taking a look at my number one recommendation Wealthy Affiliate. 
Summarised Overview
---
Name: Traffic Monsoon 
Sales Page URL: www.TrafficMonsoon.com
Owners: Charles Scoville
My Overall Ranking:1 out of 5
Verdict: Scam 
Drop me a comment below or you can always get in touch with me via WealthyAffiliate.com (link to my profile).
Reviewer:
Review Date:
Item Name:
Item Rating: