The Property Partner Review    
An Overall Ranking Of 4 out of 5       
Price: £50 Minimum Investment
Owners: Daniel Gandesha (Founder & CEO)
Website: www.propertypartner.co

Thank you for reading the property partner review you can sign up now by clicking Here and you will receive £500 Cashback when you spend over £10,000. 

The Property Partner Review
The property partner was launched in November 2013 by Founder & CEO Daniel Gandesha.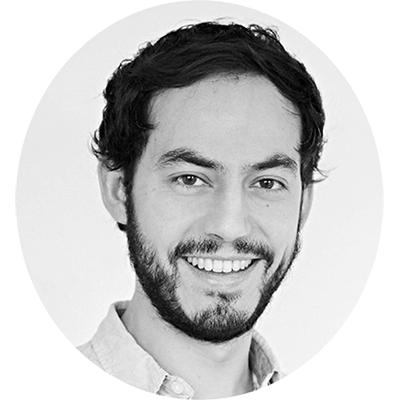 Background of Daniel Gandesha- The property Partner Review 
---
He is a Chartered account and a member of the ("ICAEW"), he also has over 9 years experience within the financial industry. Previously before launching property partner, he worked for BSkyB as the head of Startup Investments.  Prior to BSkyB, he worked for KPMG as an advisor for mergers and acquisitions, which is where he gained his chartered qualification.  Not only does Daniel have experience of managing his own property, he is also FCA approved.

Is Crowdfunding the future of property investment?
---
It could possibly be, however, it is still too early to tell.
What is crowd-funding?
It's a way of raising money from a lot of people. A few examples of this are Kickstarter. This has been launched as a crowdfunding website for people who want to bring new products to the market. Another example would be Funding Circle, this is another crowdfunding platform used for launching corporate companies. How it works, a property is hand-picked by an expert at the Property Partner which is purchased below market value.  This is then advertised on the platform as a property investment. Each investor can then invest in shares within that property, with a minimum investment of £50. The investor will then receive a monthly income from the rental income received from the property. Also receive an increased value on their share price with any Capital growth, in line with how much they invested.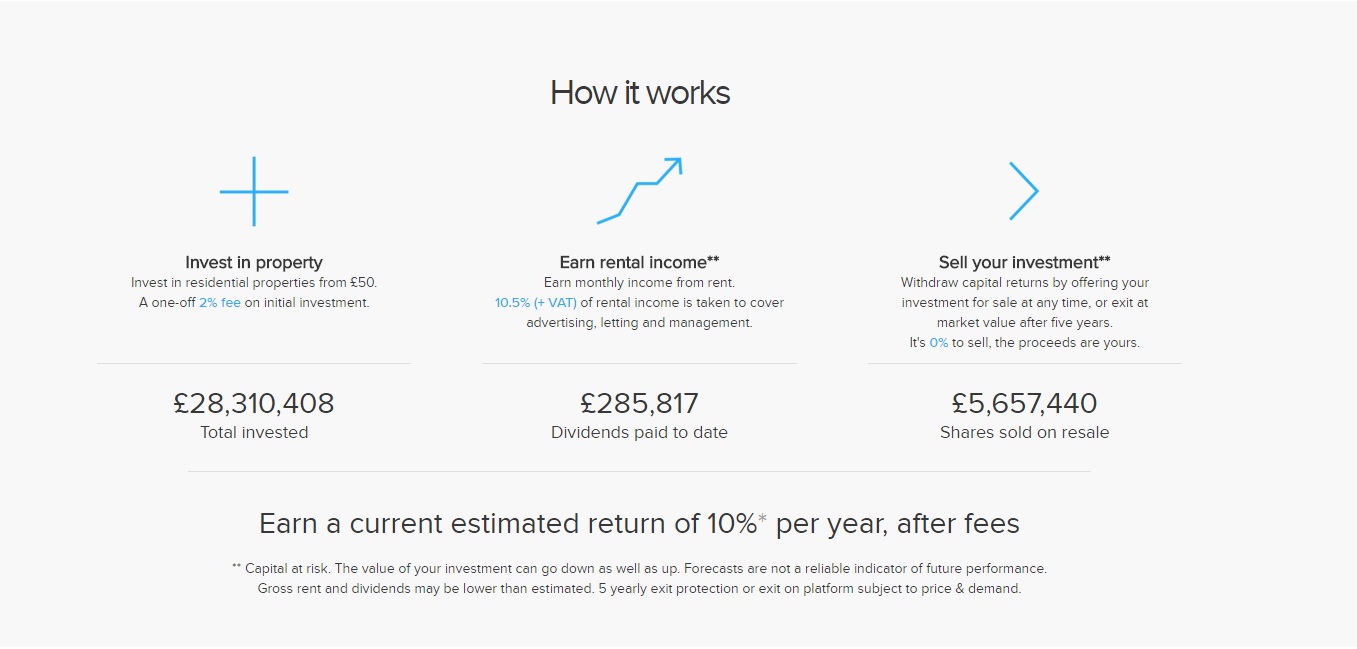 How can It be beneficial for people who want to invest in property via the property partner?
---
You can choose how much you want to invest starting from £50 and you become a shareholder, the crowd-funding platform does everything and you get a share of the income and also share of capital growth.
Monthly Rental Income, If you're looking for an investment with a monthly return and also looking to diversify your portfolio then Property Partner could be for you. Your risk on just one investment is reduced and you can also sell your shares within Property Partner.
Less hassle than a Buy To Let, Not only do you not need a deposit of 25% which is nearly impossible, for the younger generation in today's society. But think about all the hassle that comes along with managing a buy to let yourself, void periods, broken boilers and difficult tenants.
Get involved with less money, small amounts of money

It's a way of diversifying

No deposit required

Avery easy way of investing in property at a click of a button
Thank you for reading the property partner review you can sign up now by clicking Here and you will receive £500 Cashback when you spend over £10,000. 
What are the disadvantages?
---
The Exit strategy. A wise investor always has an exit strategy for each investment they hold. Property partner does offer two exit plans to liquidate your cash from the platform. Firstly you can sell your shares to other potential investors on the platform, you could sell them for more. Presuming the price has gone up with capital growth or alternatively less if it went down. There is no definite answer for how long this could take depending on how much you have invested. Secondly, after five years from purchase. Property partner does have an exit plan for all investor, where they are given a chance to sell at Market Value.
You have no control.  You have no control over who the tenants are. What the rent is, how the property is managed, or, for that matter, how the costs are calculated. This is where you have to put trust in the platform. That they are going to manage the property as effectively as possible. Based on the calibre of people in the Property partner Team, Robert weaver their director of property. Ex RBS global director responsible for over 1100 residential units, I do not think this would be an issue. However, each individual property comes with its own tenants and problems. Another thing to note is Property partner reserves the right to borrow against the property. In an unexpected event which may be uninsured. Therefore, you may have to watch out of your share price going down as well as up.
The Fees 
---
The Fees, at property partner, are very transparent, to invest they are charged at a one-off 2% fee. Rental Income, The rental income you earn each month is charged at 10.5% (+Vat), this is for the management of the property.
How do you know Property Partner is managing it properly?

The platform takes a cut

The exit and liquidity, your money is not liquid

If you want to get out early, it's a bit more difficult
Whether it's something that, right now, you should be considering?
---
It's fairly new and still a new idea, depending on whether you like to manage your own risk or not you can buy funds for residential property as an alternative, There are more established funds out there, but right now it's too early to see if this is the future of property investment. But the way things are in London at the moment I think Property Partner provides us with an excellent opportunity to invest.
I have personally verified Property Partner by signing up myself and investing the Minimum £50. Here is what my returns looked like over the last 9 months or so.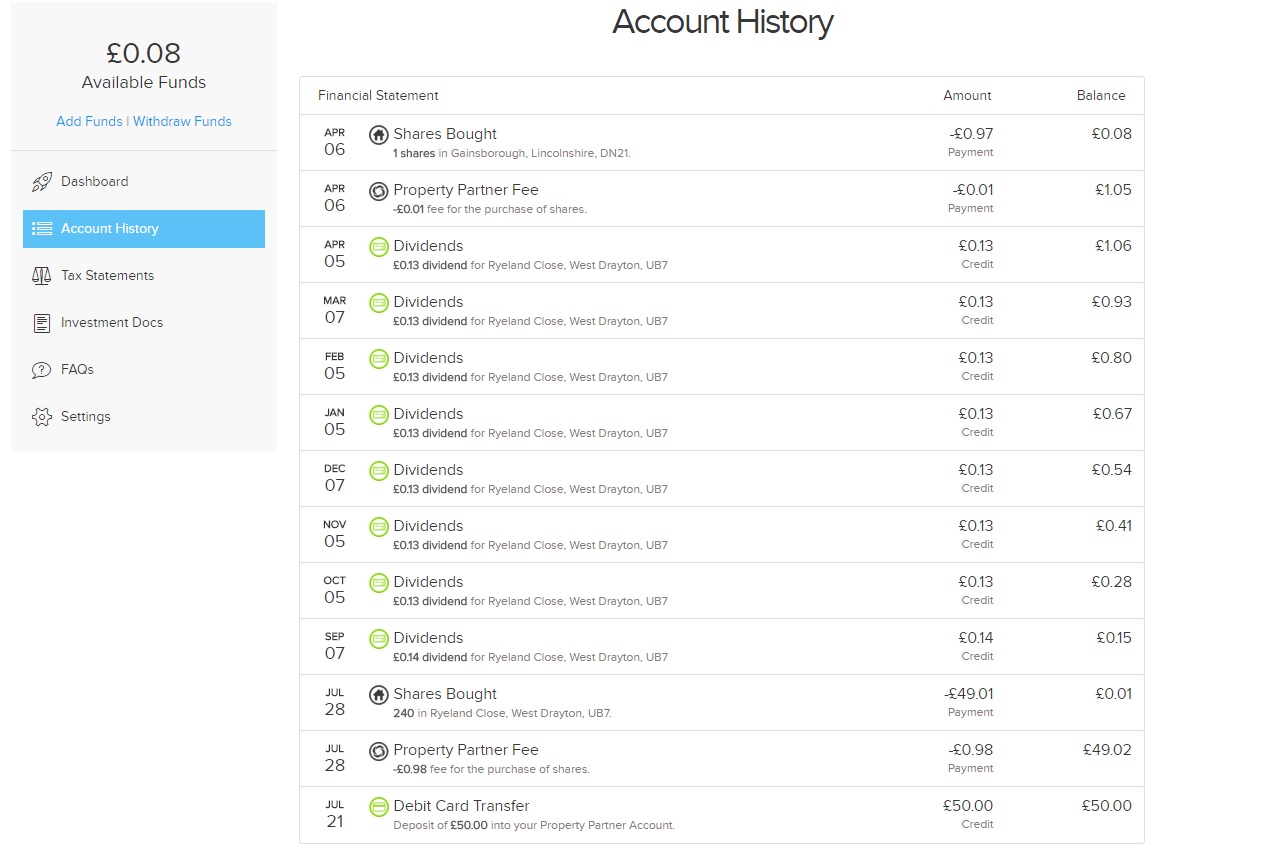 As you can see I invested £49.01 in Property partner, Paid my 2% Fee which worked out as £0.98 in the 240 shares I purchased. I then received my dividends on the property all the way up to April at approximately 13 pence a month. Giving me a return of £1.05 over 9 months, which I then used to reinvest in another property buying one share for 97 Pence. Another point I forgot to mention is you can reinvest your dividends back into shares, giving you the benefit of the compounding effect plus it doesn't have to be a minimum of £50 if you're reinvesting money in the platform.
Thank you for reading the property partner review you can sign up now by clicking Here and you will receive £500 Cashback when you spend over £10,000. 
Summarized Overview
---
Name: Property Partner
Sales Page URL: www.propertypartner.co
Owner: Daniel Gandesha (Founder & CEO) 
My Overall Ranking:  4 out of 5
Read Real Testimonials: READ REVIEWS
Verdict: Legitimate 
Please feel free to leave your own review or experience in the comment section below.
Also if you're looking at How To Earn Extra Money At Home, please take a look at our #1 Recommended program Start Here. 
Reviewer:
Review Date:
Item Name:
Item Rating: